Staying ahead of health & wellness trends
The driving factors behind health and wellness trends, the impact on employers and employees and the ongoing question mark over whether it's possible to calculate tangible ROI on preventative measures all continue to represent hot topics for HR debate. GEB brought together all of these essential areas as part of a presentation at the International Employee Benefits Association (IEBA) annual conference in Brussels, with a view to helping companies stay ahead of health and wellness trends.
What is driving medical costs?
Speaking at the event, Carlos Lorente Panadero Area Manager - GEB's EMEA Regional Office, and Heiko Ditzel, Director Insurance, Group Insurance Dept. at Adidas - explained that the ongoing rise in medical costs are due to the combined and interrelated effects of price and increased utilisation, the latter due to longevity and spread of chronic disease.
According to the latest data from the World Health Organisation (WHO) by 2020, for the first time in history, people aged 60 and over will outnumber children younger than the age of five. In addition, healthy life expectancy is now 63 years globally. As the world's population gets older, people's health needs tend to become more complex. This is largely due to declining capacity and the increased likelihood of having one or more chronic diseases.
Worldwide, obesity has more than doubled since 1980 and, in 2014, 11% of men and 15% of women aged 18 years and older were obese.
Additionally, the Willis Towers Watson (WTW) Global Medical Trends Survey 2017 revealed that cancer, cardiovascular and respiratory conditions are expected to represent the top three issues globally over the next five years. Over the same time period, the biggest cost drivers in Asia Pacific are expected to come from inpatient and outpatient services, whilst the Americas expects to see the biggest cost increases related to pharmacy, Europe outpatient treatment and Middle East & Africa maternity.
Is the work environment helping or hindering?
Meanwhile, an EU survey of new and emerging risks in the workplace[1] shows that stress continues to be a considerable problem. Stress is thought to contribute to about half of all lost working days, along with other psychosocial risks, yet only about 30% of organisations in Europe have procedures in place for dealing with psychosocial risks. At the same time, the number of insurers globally that include treatment for mental health and stress in their standard medical insurance programmes has improved significantly, according to the WTW survey, to 61%, from 50% in 2014.
The work environment is intrinsically linked to some of these worldwide health issues. The EU report showed the most frequently identified risk factors for companies across sectors are:
Dealing with difficult customers, pupils or patients (58%)
Tiring or painful position including sitting for long periods (56%)
Repetitive hand or arm movements (52%)
The survey found that desk-bound working comes with particular risks. Being bound to a desk for 8 to 10 hours a day increases a person's vulnerability to diabetes, cancer and depression, even if they are a sport enthusiast and exercise regularly.
During the presentation, Carlos highlighted the fact that as these health and wellness trends escalate, the associated medical costs are outstripping inflation. In 2016, the global projected medical trend rate was 9.8%, compared to a much lower projected global inflation rate of 3.9%.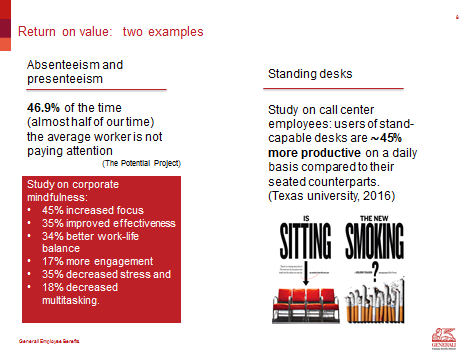 Building the business case
With businesses potentially bearing the brunt of declining health trends with regards to increasing absence, reduced productivity and increased medical costs, there is an essential need to invest in preventative measures when it comes to the health of a workforce.
Where to invest
Areas of focus might include:
Network facilities performance.
Phone / online assistance and services.
Workers' cost sharing (where both employer and employee cover the cost of medical insurance).
Lifestyle and behavioural change.
How to measure what works
Carlos pointed to many examples of organisations seeing tangible returns on investment in the health of their employees. For example, a study[2] by Texas University in 2016 in a call centre showed employees using stand-capable desks were 45% more productive on a daily basis compared to their seated counterparts.
Whilst research by the International Social Security Association[3] shows that for every €1 invested in occupational safety and health, employers can expect a return of more than €2.
In addition, by prioritising the health of employees, businesses may see added value benefits, such as:
Better external corporate image.
Increased employee motivation and satisfaction.
Lower rates of absenteeism and presenteeism: 46.9% of the time (almost half our time) the average worker is not paying attention. This lost time is obviously a concern for employers.
Greater productivity as the Texas University call centre study illustrates.
How benefits networks are responding
As part of a consistent global framework, it's possible to get to grips with health and wellness trends by:
Overcoming a sectoral approach
Providing systematic solutions to complex challenges
Identifying and collecting data. This includes detailed medical reporting to help companies identify and mitigate health cost drivers and improve wellness.
Providing central, global oversight and local insight to deliver corrective actions.
Tailoring relevant solutions to drive employee engagement.
Improving communications and engagement at both a local and a global level.
Sources:
[1] European Survey of Enterprises on New & Emerging Risks: Managing safety and health at work, The European Agency for Safety and Health at Work, 2015 https://osha.europa.eu/en/node/6745/file_view
[2] Call centre productivity over 6 months following a standing desk intervention, Texas A&M Health Science Centre School of Public Health, 2016 http://www.tandfonline.com/eprint/km4nB428SqEGEqw7Bwjz/full
[3] Calculating the international return on prevention for companies: costs and benefits of investments in occupational safety and health, International Social Security Association, 2013
http://publikationen.dguv.de/dguv/pdf/10002/23_05_report_2013-en--web-doppelseite.pdf