If employers needed any further evidence that investment in wellbeing and prevention pays, they need only look at the latest global estimates of the cost to the European Union of poor Occupational Safety & Health (OSH).
Work-related accidents and injuries cost EU €476 billion a year according to new global estimates. That's 3.3% of the EU's GDP.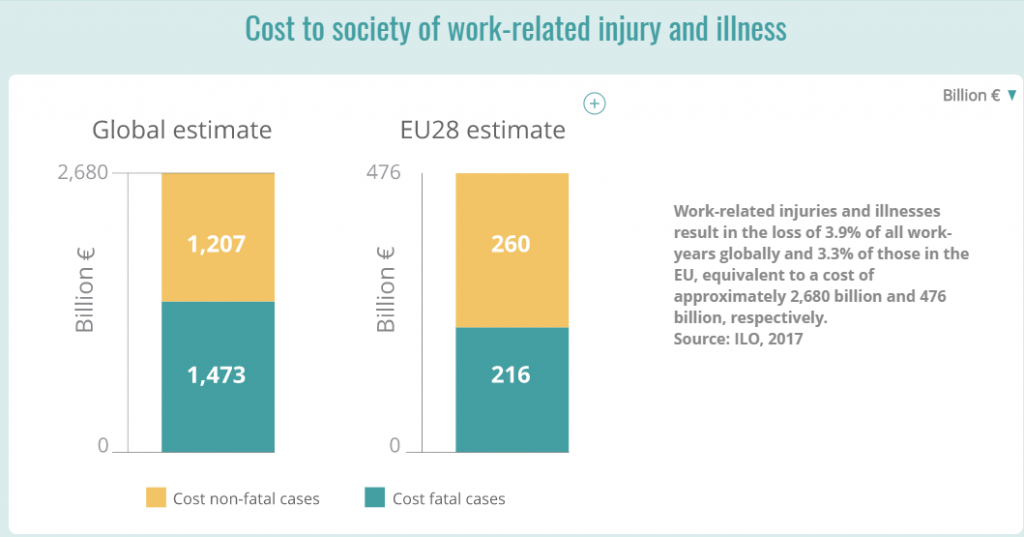 ​
The estimates are findings from a major project on the costs and benefits of OSH, carried out by a range of organisations. Two of those organisations involved - the European Agency for Safety and Health at Work (EU-OSHA) together with the International Labour Organisation – are presenting the findings at the XXI World Congress on Safety and Health at Work, held in Singapore.
Speaking ahead of the World Congress, the Director of EU-OSHA, Dr Christa Sedlatschek, said: "Safe and healthy work is a fundamental human right but these new estimates of the costs of poor or non-existent OSH measures show that the economic case for OSH has never been stronger."
Further findings to be presented at the World Congress include:
Work-related illnesses account for 86% of all deaths related to work worldwide, and 98% of those in the EU.
123.3 million DALY (disability-adjusted life years) are lost globally (7.1 million in the EU) as a result of work-related injury and illness. Of these, 67.8 million (3.4 million in the EU) are accounted for by fatalities and 55.5 million (3.7 million in the EU) by disability.
In most European countries, work-related cancer accounts for the majority of costs (€119.5 billion or 0.81% of the EU's GDP), with musculoskeletal disorders being the second largest contributor.
A data visualisation tool highlighting the key findings will also be unveiled at the Congress. For more information go to https://visualisation.osha.europa.eu/osh-costs#!/
Generali Employee Benefits provides support to EU-OSHA's campaign on safety and health at work.