The Brazilians seem to have got the cost/value ratio all sewn up when it comes to annual summer holidays!
More people in Brazil plan to holiday this summer than anywhere else in the world, except for the USA (both at 68%); the majority will plan and book more than four months in advance; they will holiday for longer than anyone else at 2.2 weeks on average; and yet they report the lowest average budget at Euro equivalent 1,238 in comparison to Europeans with an average budget of €1,957 and an average holiday duration of less than two weeks.
Holiday outlook remains stable
That said, it's encouraging to find that the majority of Europeans are looking forward to a summer holiday this year: 64% reporting they will take leave this summer, 1 point up on 2017.
It is in Asia, included in the Europ Assistance barometer for the first time this year, and in the 'Anglo-Saxon' countries that the average duration is the lowest with only 1.3 weeks on average in India and China, 1.5 weeks in the USA and 1.6 in the UK.
Brazil, France and Switzerland, meanwhile, record the highest average duration, at 2.2 weeks for Brazil and 2 weeks for both France and Switzerland.
The Brexit effect
Meanwhile, Brexit could affect European's preference to visit the UK, while the British appear to be less concerned by potential changes to border arrangements.
Showing the strongest preference to reconsider visiting the UK if Brexit resulted in a situation where a visa and longer security measures were imposed at the border, are the Spanish (56%) and Portuguese (54%), followed by the French (47%), Germans (45%) and Italians (45%).
Conversely, only 34% of British nationals would reconsider visiting Europe.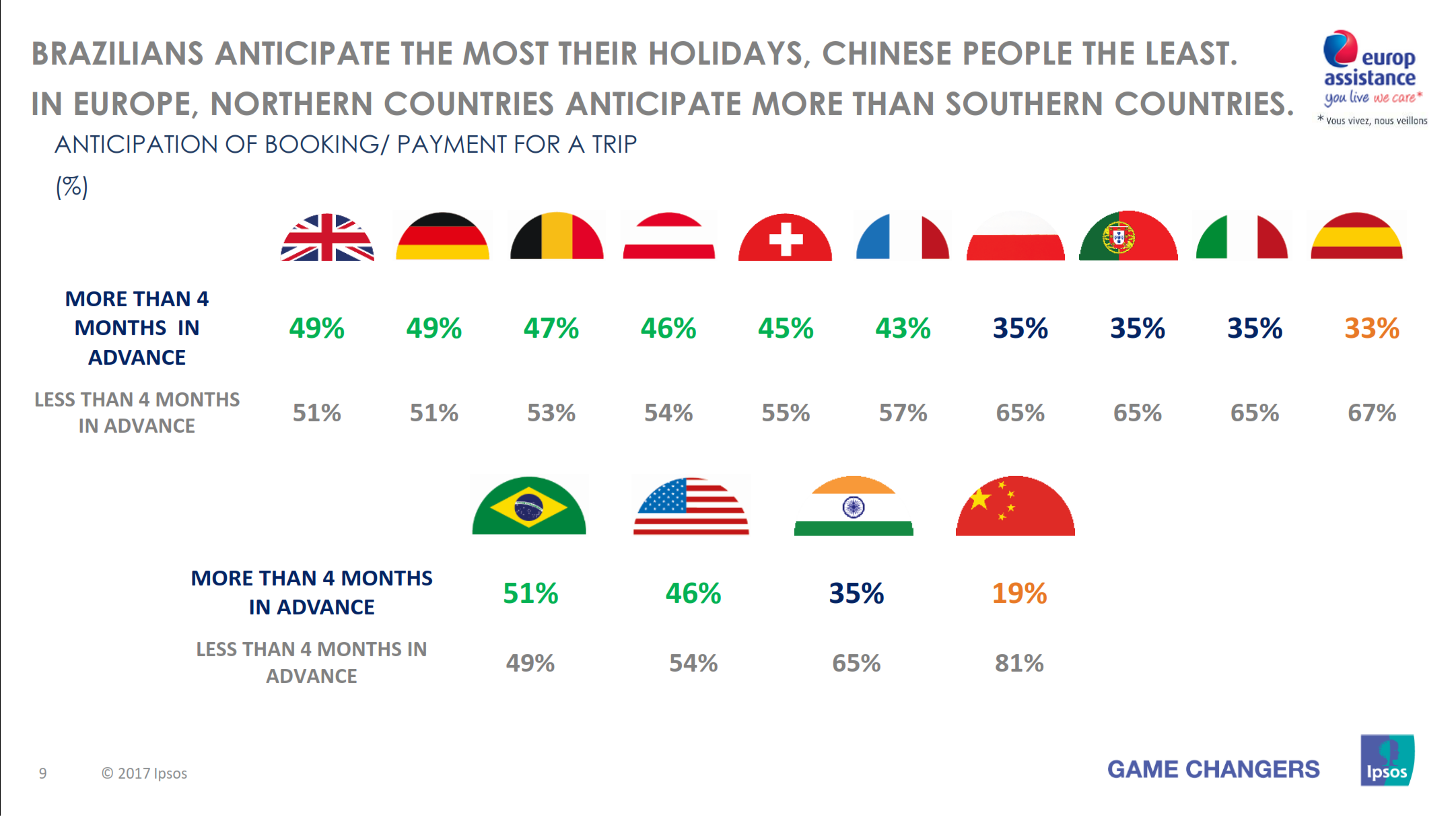 Younger generation opt for 'authentic' lodging
Millennials in particular exhibit a preference for private houses / apartment rentals, which allow them to embrace a local way of life.
59% of the European and the American Millennials (vs 46% and 38% in the general population), 58% of the Brazilian Millennials (vs 52% in the general population) and 55% of the Indian Millennials (vs 48% in the general population) are interested in this kind of approach to holidays.
Finally, although the younger generation are likely to post more online reviews after their holiday about the services they used, this is most likely with Asian holidaymakers: 96% of the Chinese and 95% of the Indians post reviews.
To read the full report, go to https://europ-assistance.com/en/media/publications